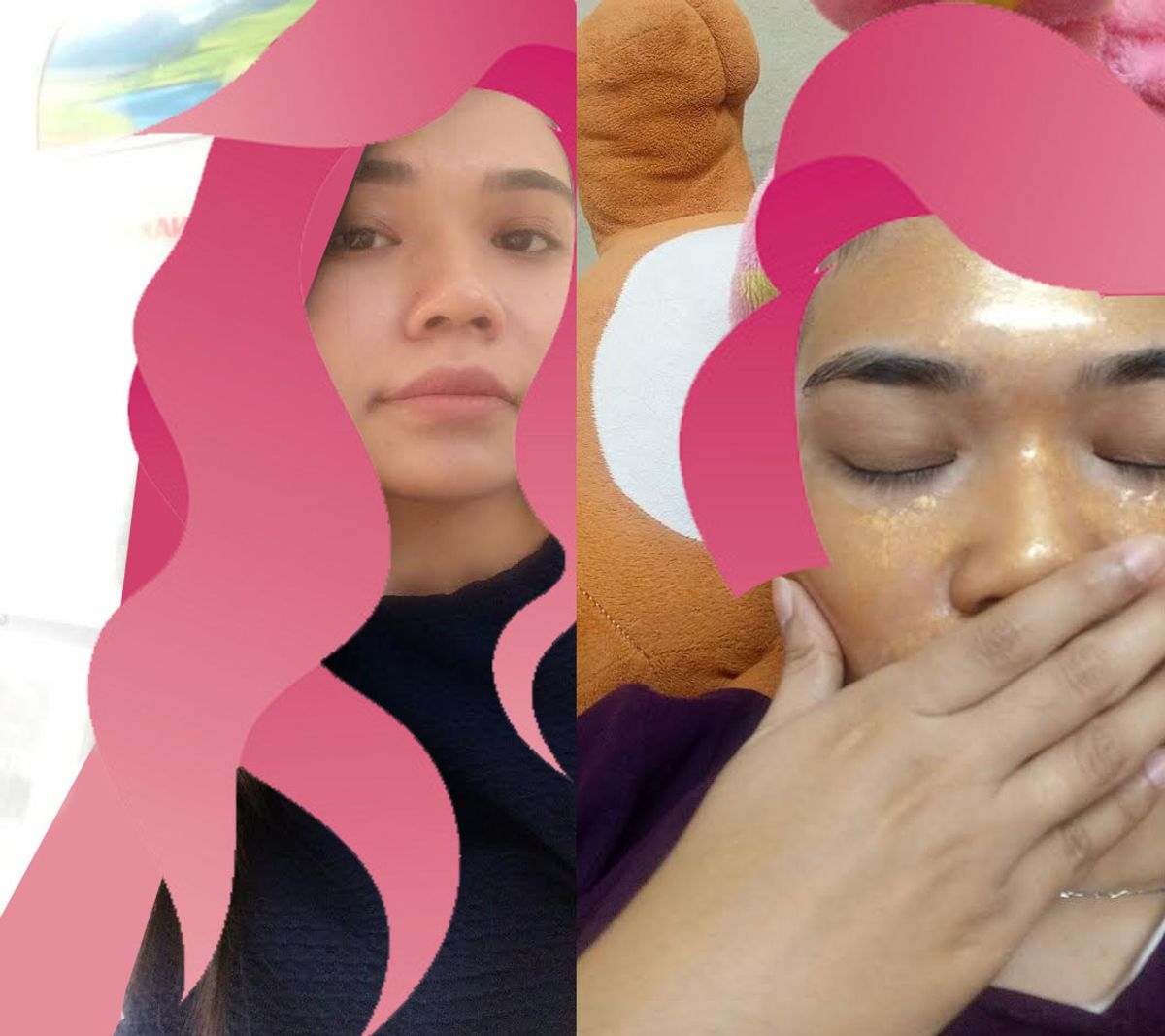 HEY SHAF & DOLLS!
.
My name is Aisyah, u can call me Echa. (Hahahaha. terikut ikut cara shaf dah 😂 )
so lets start with my story before i kenal PBC. before this muka i teruk...
tak ada GLOW, ada JERAWAT and also PARUT HITAM.
yang paling susah nak hilang tu parut lah.. menangis berbulan la nak tunggu parut tu hilang.
"I pun mula pakai produk-produk pemutih....."
When i was 20, i felt insecure and tak confident with myself.
I started using products yang famous mcm d****, d** and also the famous one t***..
Banyak kali i tukar2 skin care sebab masa i pakai tu kulit i lama2 rasa tak serasi.
Produk2 tu hanya buat kulit i nmpk lebih cerah dari kulit asal i yg gelap, tapi kulit i nampak tak sihat.
n yes die punye effect putih tu instant sangat, smpai rase takut jugak,
sebab kulit i lebih cerah dr warna asal secara instant sgttttt..
then since ramai review kata all the products i guna tu sebenarnya ada mercury, i stop guna.
"Lepas tu, I terjumpa video Shaf kat Youtube.."
Masa tu Shaf review product Watson dari Korea, which is Pure Beauty.
Start situ i terus jatuh hati dengan Shaf.
I terus start stalk dia, dari sebelum wujud Shoppinkboxcereal.com sampai lah sekarang. huhu.
Masa review product Pure Beauty tu, i pon terus beli tau. hahaaha. terpengaruh sangat
I stalk Shaf a few years, sampailah Shoppinkboxcereal.com wujud,
Time tu tak mampu try semua lagi sebab student, so i start beli HYDRA KIT for starter.
I follow all the steps yg Shaf ajar, and it really works for me!
"Now kulit I nampak sihat tau.
Jerawat muncul bila period je. Lega sangat. Parut pun dah kurang.."
Sekarang, I dah ada macam2 product yg Shaf pakai and i bawak semuanya ke mana-mana i pergi.
Ni gambar I tengah syok pakai Pinkboxcereal Gold Mask.
"Dulu i ingat makeup tu priority.."
One of my friends ni die suka makeup, i pon jealous tengok dia cantik.
I pon start la mekap jgk. Tapi bila tgk Shaf buat FB Live, nasihat Shaf tu selalu buat I jadi lebih positive,
Shaf kata... "Love your skin 1st, Jaga kulit kita."
Yang penting wajib ada pencuci muka, toner and moisturizer.
What's more important is to hydrate your skin!
and i follow all the tips. memang resultnye SUPERB!
I makeup sekarang just pakai foundation je lepas pakai all the skincare routine yg Shaf ajar.
The best is sejak ikut tips shaf kulit lembut n sihat. SUKA SANGAT!
i cuci muka guna mineral water. rasa kulit lg bersih.
haa.. haritu dpt free gift floral spray. i buat la face mist sendiri, mix kan dengan sparkling water je.
lepastu simpan dlm fridge. BEST GILERR. cubalah DOLLS


Lastly, kepada girls or boys nak cantik secara natural and kulit sihat boleh start try dengan HYDRA KIT.
Sure u guys will love it, and please have your water based pencuci muka, toner and moisturizer.
Remember to hydrate your skin, especially bila skin u guys meragam.
HA gel very recommended.
So that's all from me. happy shopping at PBC dolls!

OPSS, kalau shopping with PBC, korang akan dapat cute magnetic box.
Sometimes, shaf buat "uhuk uhuk" and apa yang lagi best shaf selalu bagi free gift.
haa, kalau shopping kat website dapat credit balance. and yang terbaru ni ada dolls club rewards.
So nak shopping boleh pergi ke website www.shoppinkboxcereal.com
-------------------------------------
If you're interested in featuring your story with Pinkboxcereal in this blog,
please write to us at hello.pinkboxcereal@gmail.com & we will share your story here!