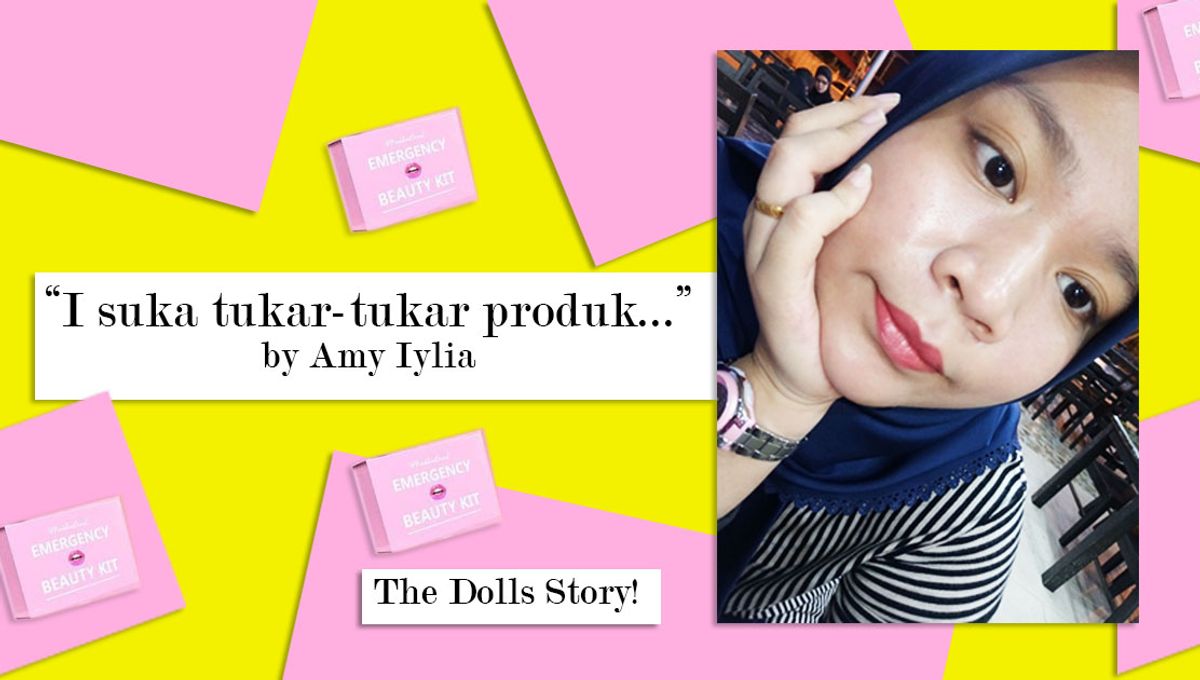 Hi dolls!
My name is Amy and I'm 23 years old. I baru je start follow Shaf punya skincare routine.
Baru 7-8 months but I can see a lot of differences kat my skin.

"I suka tukar-tukar produk..."

Actually my skin takde serious problem pon sampai lah I masuk kolej. Masa tu I tak pakai pencuci muka pon. I just pakai cream fa** & love** je siang malam. But since I masuk kolej, kawan-kawan semua pakai cream pagi la, cream malam la, cleanser semua tu.
Mula-mula memang I tak terpengaruh lagi but lama-lama tu terpengaruh lah jugak nak pakai lah cream2 mcam kawan-kawan lain. Start from that lah I pakai macam2 jenama yang ada jual kat Instagram. But I tak penah pakai lama pon produk2 tu. Semua I pakai dalam sebulan dua je, lepas tu tengok ada iklan produk lain yg tunjuk testimoni2 yg bagus, I gatal lah tangan nak beli jugak so I tukar lagi produk.

"Jerawat mula keluar..."
Lama jugak lah I tukar2 produk tu sebab percayakan testimoni2 yang seller tunjuk. If I not mistaken ada lah dalam 2 years I tukar2 produk. And of course lah muka I start naik Miss J yang non-stop after tukar2 produk even Miss J yg naik tak banyak but lama gila nak kecut and bila kecut pon akan tinggalkan parut2 hitam.
I dapat hidayah nak stop pakai produk2 dalam Instagram tu after viral pasal produk ada mercury semua tu. I pegi lah cari skincare yang ada kat farmasi such as Guardian & Watson. I pakai sa** but tak berkesan. Muka I still kusam, still naik Miss J and dark spot makin banyak. So I stop pakai. Then masa tu I dah start kerja so ada lah duit nak beli skincare yang mahal sikit kan.


I pakai B** E*****e for almost 1 year. I pakai yang whitening punya set. Ada cleanser,serum,toner,day cream& night cream. It helps la untuk hentikan Miss J yang naik tak kira masa but my skin still kusam, tona tak sekata and dark spot pon tak hilang.

"I mula kenal dengan Pinkboxcereal.."
I ternampak video skincare yang shaf buat kat facebook then I start stalk shaf sebab rambut dia pink and she so pretty. That time awal oktober I think. Dari situ lah I tengok video2 yang shaf buat. Masa tu jugak shaf busy nak pindah kedai. I dah aim dah skincare mana yg I nak beli masa shaf buat opening new store kat Pelangi Damansara. I'm official join the Dolls Club at 28 October 2017. Hahaha
After dah shopping sakan kat opening day PBC tu, I dah free entrance untuk datang skincare class shaf. Dalam kelas tu shaf memang cerita dari basic sampai lah advance step nak jaga muka. Alhamdulillah. My skin getting better now. Apa yang shaf cakap totally betul, bukannya pakai hari ni, esok flawless dah. It takes time to recover and jangan terlalu stress nak flawless. Make sure kulit sihat dulu baru boleh cantik.
Conclusionnya, jangan lah mudah terpengaruh dengan macam2 iklan produk kecantikkan yang ada kat facebook,Instagram. Jangan guna jalan yg mudah but akhirnya merana. So gunalah produk PBC yang confirm2 safe and sound mcm lagu Taylor Swift. Hihi


My current skincare routine :
KLIER cleanser (pagi & malam)
PBC rose toner (pagi & malam)
PBC rose gold water (pagi & malam)
Argania facial mist (pagi & malam)
PBC HA water gel (pagi & malam)
Argania cleanser – bila my face mengada lebih mcm time period
Argania light – selang sehari (malam je)
Claypatra bentonite clay lotion – (pagi & malam)
PBC pore peeling jelly – (seminggu sekali je)
Scrub & mask routine :
Scrub district – forever favourite
Gold mask – forever favourite jugak
Earth clay mask
So untuk yang first time nak cuba, korang cubalah Hydra Kit and KLIER combo. Sangat2 best dan berbaloi. Don't worry, semua ni waterbased. Tade orang yang allergic dengan air kan? 😂 That's all from me, thank you!!
---------------------------------------------------------------------------------------------
If you're interested in featuring your story with Pinkboxcereal in this blog,
please write to us at hello.pinkboxcereal@gmail.com & we will share your story here!