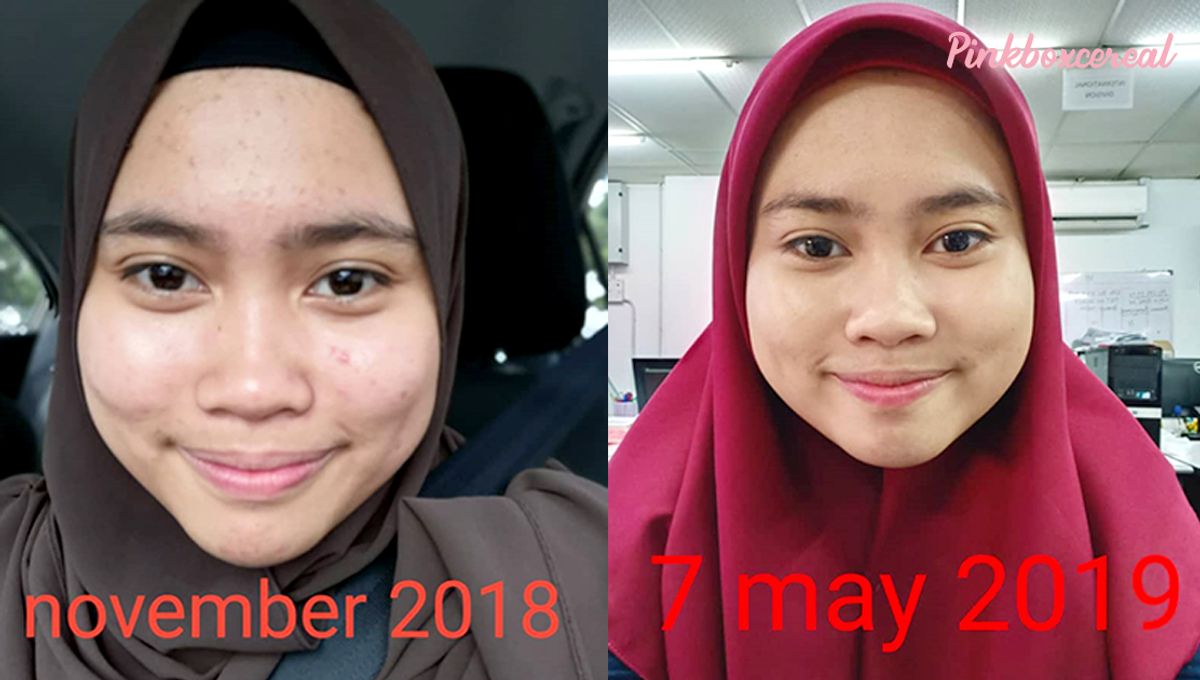 Good day dolls!


Nama saya Fatin. Saya nak kongsikan pengalaman saya hanya buat rutin Basic Skincare (follow semua yang kak syaf ajar je) selepas pakai produk merkuri. First of all, saya takde skin problems yang teruk pun. Sampailah satu masa, bila ada yang tegur kulit saya dah macam udang bakar bila kena matahari.


Putih memang putih. flawless memang flawless tapi macam 'fake' je kulit ni. Waktu tu, saya belum tahu yang produk saya pakai ada MERKURI. Lagi sebulan je untuk genap 2 tahun saya pakai produk tu. Oh no! Punya lama saya tepek merkuri kat muka sendiri.


Lepas dah tau, saya immediately stop.


Esok tu terus naik pimple kat dahi. Yang paling obvious sekali, kulit makin kusam dan of cos sunburn teruk. Saya pun kelam kabut cari produk kat drugstore. Paling saya tak boleh lupa, saya focus untuk cari serum je, sedangkan basic skincare pun entah ke mana.


Sampailah ke hujung tahun 2018, video kak shaf lalu kat Facebook saya. Banyak yang Kak Shaf share, terutamanya pasal 3 basic skincare tu. Patutlah serum tu semua takde effect pun bila pakai. Toner, moisturizer semua entah kemana.


Awal 2019 saya start buat routine 3 basic skincare tu


Alhamdulillah. Walaupun saya hanya consistent dengan Basic Skincare routine, tapi dah bolej nampak perubahan baik pada kulit. Sampai sekarang saya masih follow semua video Kak Shaf kat Facebook sebab terlalu banyak knowledge skincare yang dikongsi. Terima kasih Kak Shaf. semoga Allah SWT yang membalasnya!
My Current Skincare Routine :

PBC Pore Peeling Jelly : untuk cabut daki & kulit mati.
Klier Hydrating Cleanser : pencuci muka yang hydrating.
PBC Rose Acne Toner : untuk elak jerawat baru.
PBC Rose Hydra Toner : toner wajib dalam basic skincare routine.
PBC HA Water Gel : untuk kulit lebih anjal, sihat dan lembap.
Klier Hydrating Moisturizer : pelembap kulit yang sangat hydrating.
Argania CC Cream : pengganti foundation yang skin-friendly!
Lovera BB Jelly : pengganti foundation yang skin-friendly!
Argania Wonder Oil : Face Oil yang melembap & merawat kulit.
PBC Rose Gold Water : Rose Hydra Toner tapi versi have-have!
PBC Beauty Water : Guna untuk bilas muka, elak air paip yang 'keras'.
Terima kasih PBC. Lots of

.
Fatin Syafiqah