1. How many days does it take for me to receive my order?
Usually it will take up to 3-4 working days, in some festive or sale season – it might take up to a week. But we always practice next day delivery & try our best to get it to you ASAP!

2. What is the "store-credit"?
You will receive some amount of rebate everytime when you shop from the website. You can redeem that amount in your next purchase by clicking on the redeem button at the check out page. Store credit is not available for purchases from dropship, agents and some offline events.

3. I have a voucher code, how can I use it?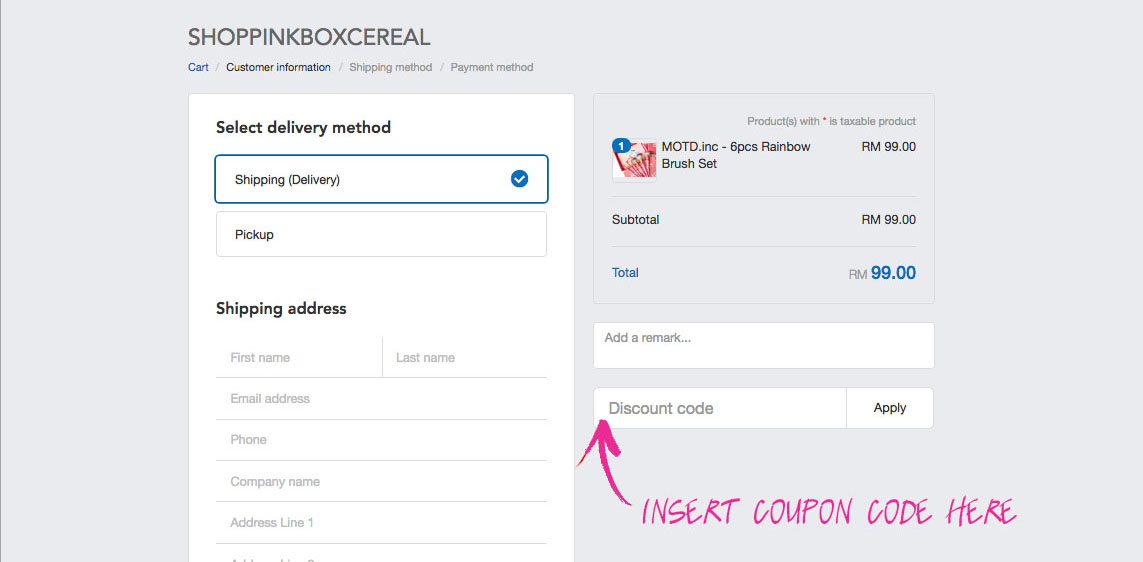 • Find the voucher code section at the checkout page & type in your code.
• Please note that you can only use a maximum of ONE (1) voucher code / order.
• Don't cancel your order after using the voucher code, as our system will marked the voucher as 'used'.

4. What is the Dolls Club Rewards (DCR), how can I claim it?
You can claim for DCR, when you shop for a minimum amount of RM150. Please refer to this page for rewards claim.
• DCR is not applicable for purchases from dropship, agent and some offline events.
• DCR can only be claimed in the following month, for the previous month.
(ie : January 2020 reward can only be claim in February 2020, not claimable in January 2020 or March 2020)

5. What courier are you using?
To ensure for safety and reliability, we only use POSLAJU for Malaysia addresses.
For outside of Malaysia, we work with different courier companies.

6. Can I pay by ATM machine?
Yes sure! Just email to hello.pinkboxcereal@gmail.com for assistance.

7. Can I pick up my items at your office?
Yes, but please allow 12-24 hours after your purchase to pick up. As on some days, our team are packed processing for shipping.

8. Are your products safe for pregnant women?
Yes, all of our products are safe for pregnant women.
They are also notified with the Ministry of Health Malaysia (KKM).

9. My products are broken / spilled / missing, can I get a refund?
We do not offer refund, but we can offer a replacement. Please email us to hello.pinkboxcereal@gmail.com within 14 days of receiving your parcel. Any complaints later than 14 days is not applicable for replacement.

10. I dont know how to use the website, can someone assist me?
Yes, our dropship / agents can help you! Click this link for assistance

11. I'm buying for a birthday / wedding present, can you write a card for the receiver?
Yes sure! Just write your request in the remarks section, we'll help you with that!