Become a re-seller, get side-income & grow with Pinkboxcereal!
Did you know almost 30% of Malaysian women started their side-business in the beginning of MCO? Many women ventured in food and beverages, fashion and even freelance services like admin work, house cleaning and tailoring.
5 Reasons They Start A Side-Business:
1. Getting additional side income.
2. Want more time with family at home.
3. Wants freedom from office hours.
4. Helping family with expenses.
5. To improve their lifestyle.
Because of this, we are delighted to open an opportunity for you to start your business with Pinkboxcereal! With our strong brand presence, guidance and support from HQ, and a flexible way to start – this is the best time to start!
5 Reasons to Join Pinkboxcereal!
1. Returning Customers – We have a retention rate of 85% every month. We believe this is because of the good products, great service and the love we have for our customers. Returning customers is important to give you a stable income every month.

2. Support & Guidance – We provide a weekly online training, marketing materials and even a private coaching for those who has put in their effort. We will guide you how to market, sell and build your own business.

3. Great Products – We deliver almost-magical products that brings impact to our customers. Great products make selling becomes effortless! This explains why we have such high returning customers.
4. Teamwork – We believe in great energy and teamwork. Working alone allows you to move faster but working together will get you further! All re-sellers will be invited into a special group to discuss ideas & share their successes!
5. A Positive Circle – Take a look at our community, the positivity & joy energy is high! This is what we cultivate in the brand, our team members, our customers and of coz you. A positive mind brings out positive results. If you would like to give your life a change, this is the place to be.
Who Should Join Us?
1. Career women
2. Housewives
3. Students
4. Social Media Influencers
5. Shop owner / Kiosk / Salons
6. Aspiring entrepreneurs
7. Anyone who wants to be successful!
What Will You Get When You Sign Up?
1. Pinkboxcereal - Re-sellers 30-Days Action Plan
2. Pinkboxcereal - The Online Business Guide
3. Pinkboxcereal - Business Kit
4. Access to Re-sellers Group (Facebook & Telegram)
5. Pinkboxcereal Car Sticker
6. Skin Analyzer
7. Sample Series
8. Private Coaching with Founder at (The Dollhouse)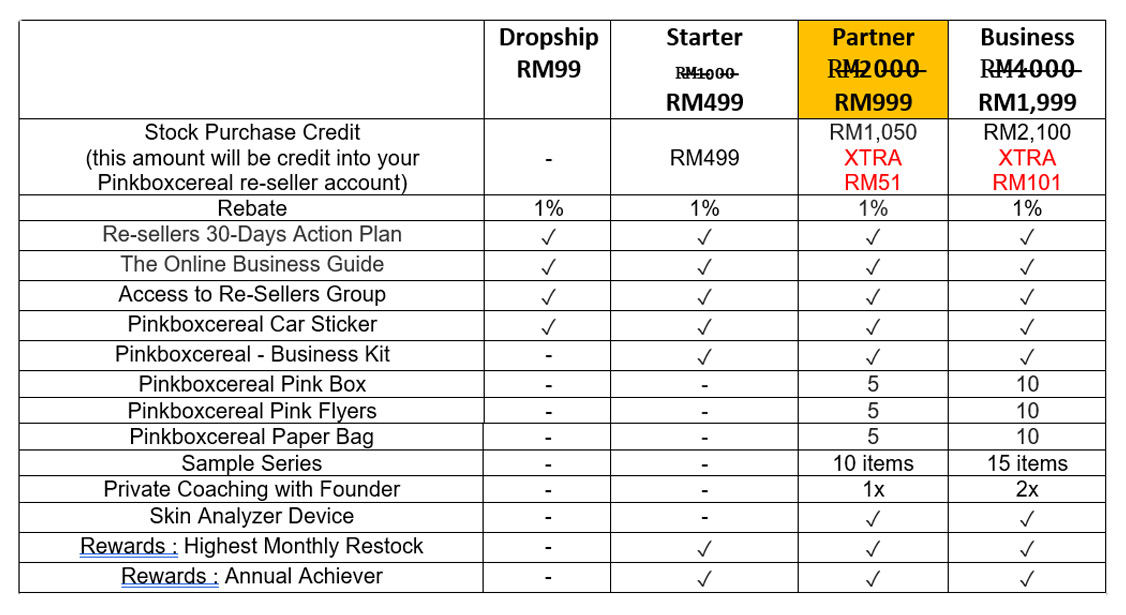 Why Do I Have to Pay For Registration Fees?
If you look at the table carefully, registration fees only applies to Dropship. For the fees of RM99, a dropship will get 4 bonuses. For Starter, Partner and Business, the registration fees will be credited back into your re-seller account. This amount can be use to purchase your first order.
How Do I Sign Up?
Congratulations for making one of the best decisions in your life! Please click on the link below to fill up the application form. Our team will assist you as soon as possible.


I Have Questions!
Feel free to contact our customer service at 016 660 7254, we'll do our best to assist you!