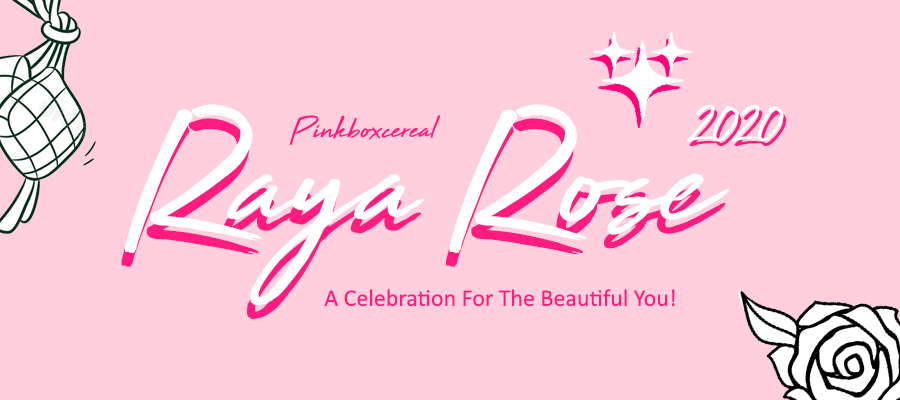 Raya Rose is the biggest beauty kit ever curated by Pinkboxcereal! It is a symbol to celebrate abundance, success and passion for every deserving woman. Since Raya is a little bit 'different' this year, we are here to bring you a little twist to spice up your festive season!
---
=====================
⏰ EARLYBIRD ACCESS
=====================
Date : 20th May 2020 (Wednesday)
Time : 12pm - 5pm (Ends strictly at 5pm!)
* For website purchases only
* No coupon code allowed

If you haven't registered for early access,
click here https://bit.ly/viprayarose.
---
Earlybird Free Gifts (A,B,C)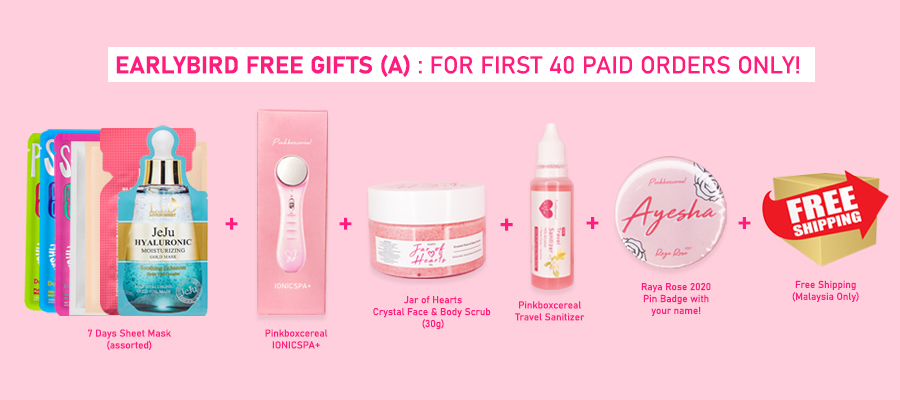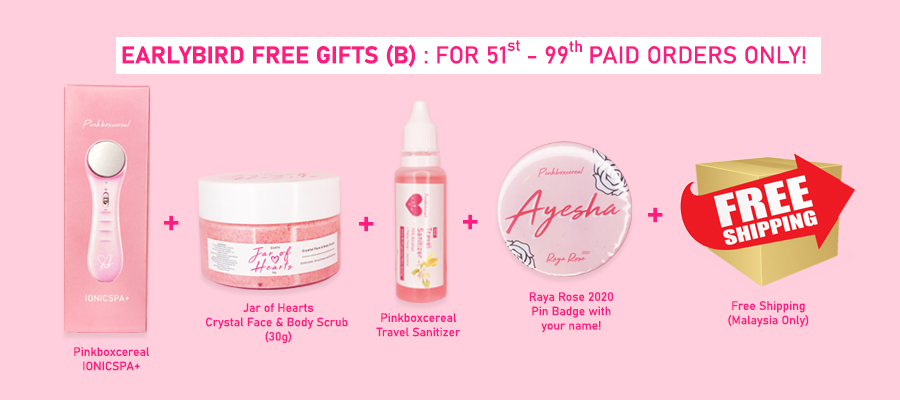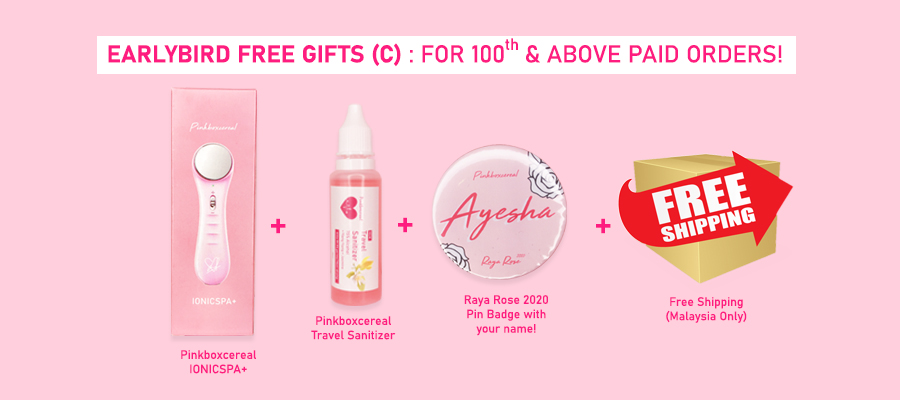 ---
Tips and Tricks!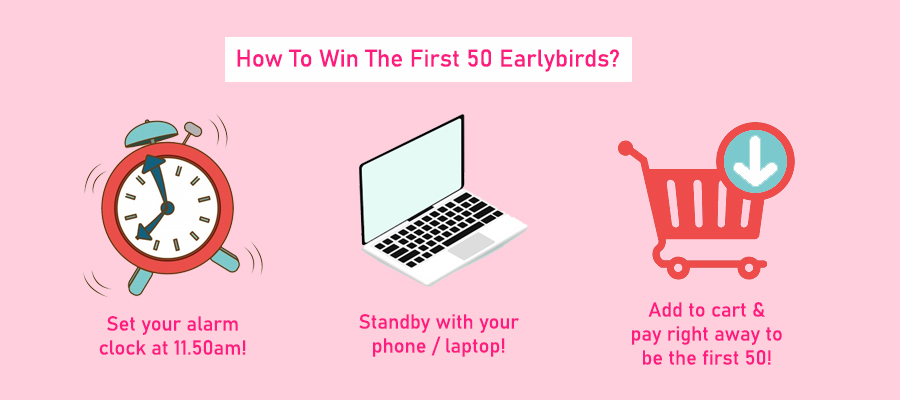 ---
Frequently Asked Questions (FAQ)

1. How will I know if I get Free Gifts A, B or C?
You will only know once you received the parcel. We will not notify, it's a surpise! So act super fast!
2. What is the price of the Raya Rose 2020?
Last year, we launched Raya Rose for a price of RM500. This year, we'll make it affordable for everyone (or what Shaf wants to call it - Raya Rose Prihatin! Hehe). With this said, we are happy to announce that Raya Rose 2020 will consist of more than 10 combo options that will start from as low as RM250 and up to a maximum of RM350 only!
3. When will I receive my Raya Rose?
Your Raya Rose orders will only be shipped starting 30th May 2020 due to public holiday.

4. Can I custom my name on the pin badge?
Yes you may! Just put your nickname in the remarks section. For orders with no remarks, we will write the name from your Pinkboxcereal account (with a little zasss!).

5. I have a birthday code, can I use it?
Unfortunately you can't use any coupon code for the earlybird promo. You may use after the code again after 5pm.
6. But I still can deduct my store credit right?
Yes, you can still use your store credit to shop for earlybird promo <3

7. Can I buy the Raya Rose through agents and dropship?
Yes you can, only after 5pm. The earlybird promo is exclusive for website purchases only.
8. Can I pick up my Raya Rose before Hari Raya?
Your Raya Rose will only be ready for pick up after 30th May 2020.
9. If I buy 2 combos, will I get 2 free gifts?
Yes! But please separate your orders into two (it's free shipping anyway!).

10. What if I buy 3 combos?
Then you'll get 3!