BeautyMaker : BB Mineral Concealing Cream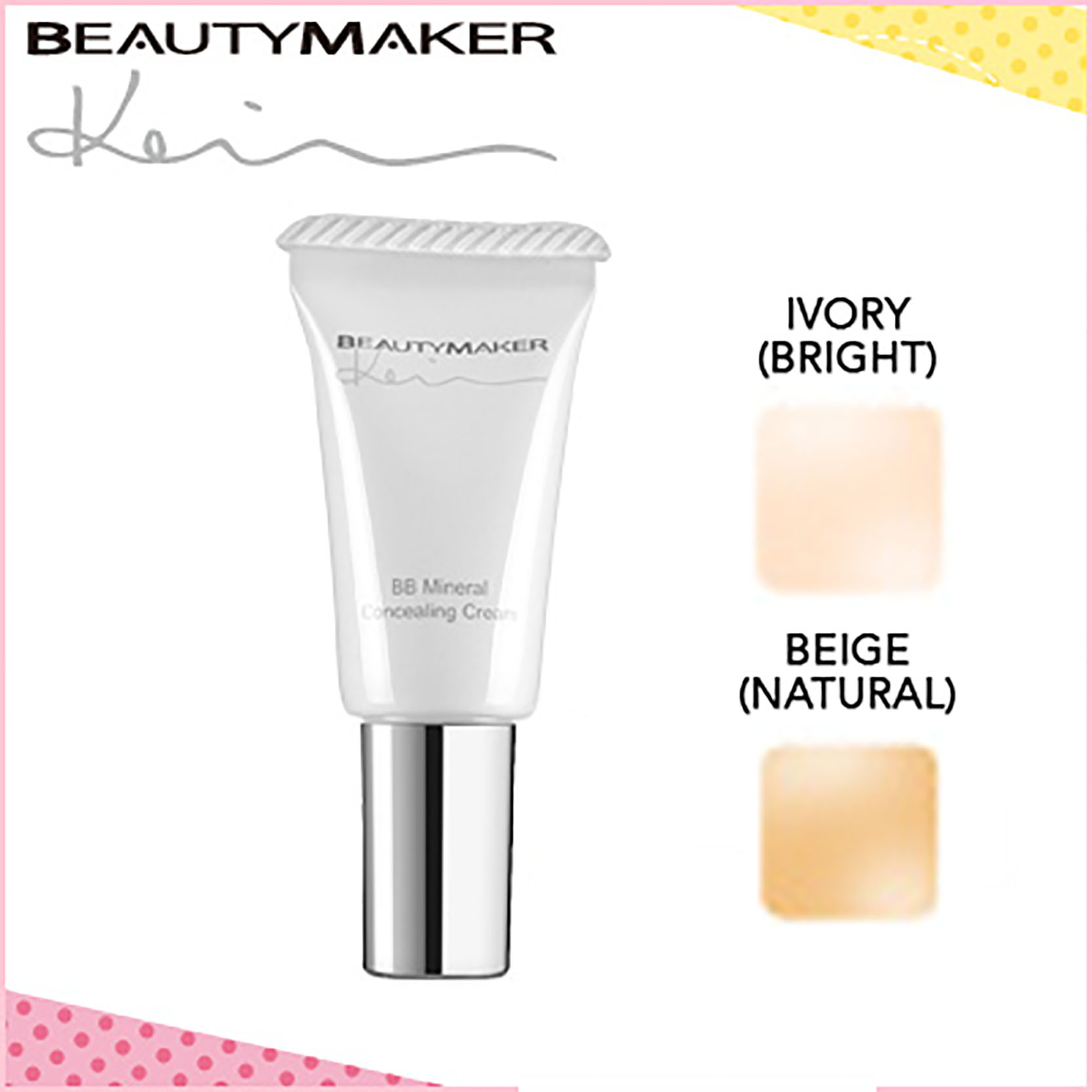 There's a big dinner & I need to cover my blemishes FAST!

No worries, dolls! We all love our skin but sometimes you just need to cover all the blemishes for big nights. Thanks to Beautymaker BB Mineral Concealing Cream, it will cover all the impurities while the BB mineral hydrates your skin in no time! Conceal, hydrates & brightens!

Item :
BeautyMaker : BB Mineral Concealing Cream

Code :
Ivory (Bright)
Beige (Natural)
Volume :
7ml

Price :
RM80.00
Features :
- Conceal blemishes fast!
- Hydrates your skin all day!
- Brightens your skin complexion for a radiant glow!
- Great for under eyes and dark circles!
- Uses water in oil formulation, helps instantaneous increase of moisture content for skin, great to cover up both spots and pores
- Contains small molecule hyaluronic which helps to keep moisture content high for a long time
- Great moisturizing effect, it prevents makeup from shedding easily
- High content of skin care ingredients, this product will improve your skin condition overtime!
- Good for moisturizing, whitening, relieve and repair, especially for skin with minor problems

How To Use :
1. On a cleanse skin, dab a small amount on blemishes or any areas that you want to cover.
2. Be sure to apply evenly throughout your skin.
3. Continue with other makeup application if needed.
Ingredients:
Titanium Dioxide/Dimethicone, Hydrogenae Vegetable oil, Squalan (Vegetable), Caprylic / Capric Triglyceride, Dipropylene Glycol, Caprylic / Methicone Triglyceride, Iron Oxide Yellow, Glycyrrhiza Glabra (Licorice) Extract, Helianthus Annuus (Sunflower) Seed oil, Cyclopethytsilsesquiozane And Dimethixon/ Vinyldimethicone, Cetyl Peg / Ppg-10 / 1dimethicone, Sodium Chloride, Sorbitan Sesquilsostearate, Water (Aqua) Butylene Glycol Magnesium Ascorbyl Phosphate, Acetvl Tyrosine, Scutellari Balcalensis Extract, Saxifrage Sarrnentosa Root Extract, Cetyl Dimethicone. Paeoria Suffruticosa Root Extract, Ethyl Ascorbyl Acid , Hydrogenate Castor oil, Iron Oxide Red, Sodium Hyaluronate, Methyi Paraben, Soybean Extract, Propyl Paraben, Linoleic Acid, Tocopheryl Acetate, Arbutin, Butylparaben, Panthenol, Iron Oxide Black, Disodium Edta, Tocopherol, Retinol, Iron Oxide-Brown.

Adakah anda risau tentang paraben? Jangan risau, baca dahulu fakta yang benar dari pakar pegawai farmasi ini:
LINK INFO dari pegawai farmasi: https://www.facebook.com/rahmanbaco.rx/posts/842976812538737

- FDA mendapati bahawa paraben adalah selamat untuk digunakan dalam kosmetik, dan juga mengatakan bahawa, berdasarkan berat semua bukti saintifik semasa, tidak ada sebab bagi pengguna untuk mengambil berat tentang penggunaan produk yang mengandungi paraben.
Link info: ENG: http://cosmeticscop.com/parabens-really-problem/

Are you concern about parabens? Don't judge too quickly! Read this paraben myths here first:
- The FDA found that parabens are safe for use in cosmetics, and it also says that, based on the weight of all the current scientific evidence, there is no reason for consumers to be concerned about the use of products containing parabens.
- Full info here : http://cosmeticscop.com/parabens-really-problem/
Customer comments
| Author/Date | Rating | Comment |
| --- | --- | --- |
---