Claypatra - Bentonite Clay Lotion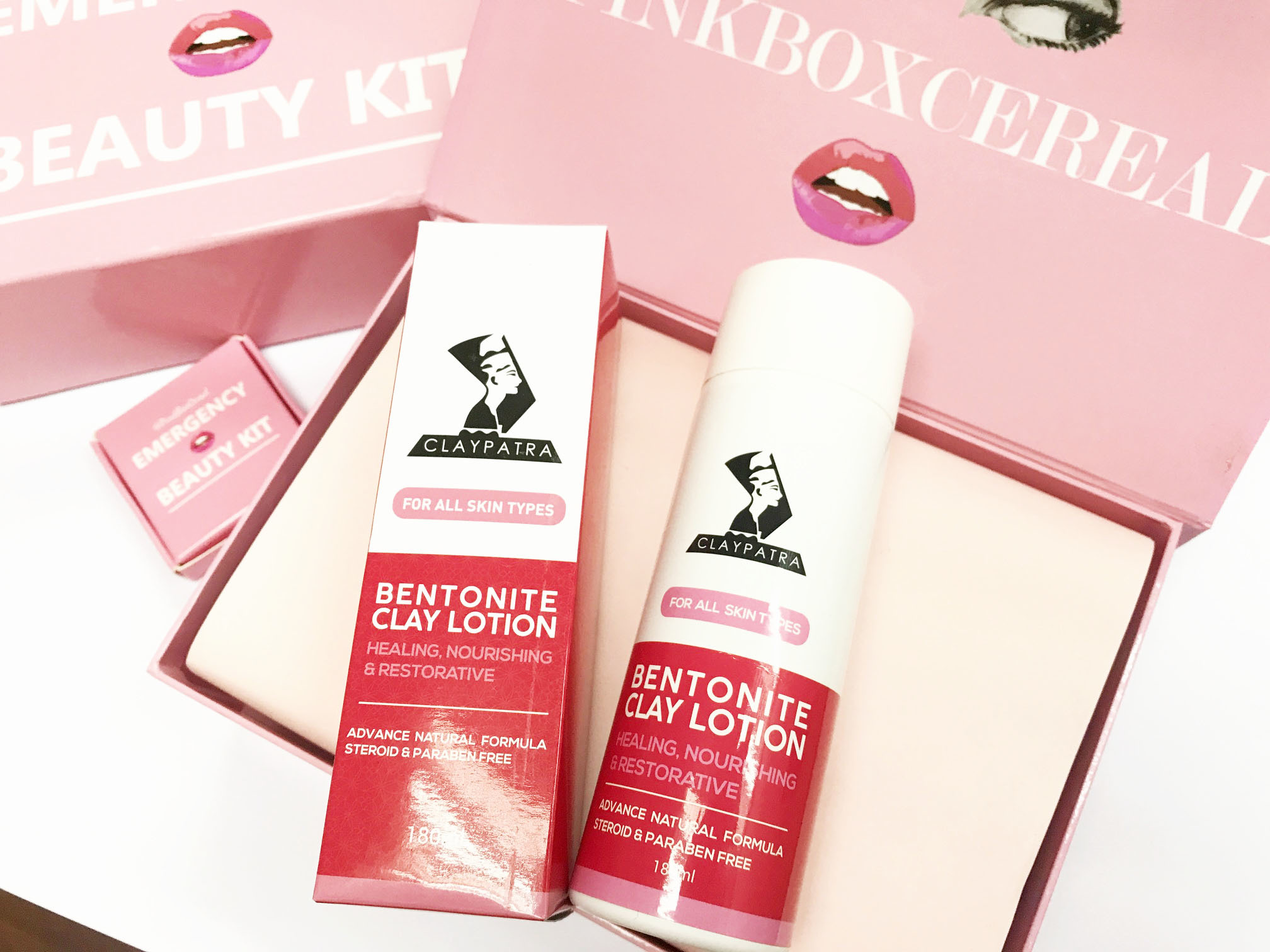 Features :
Remember when you wake up one morning and suddenly your skin is itchy red? You just don't know why and the redness lasted the whole day! Skin flares up to allergens in fabrics, liquid & in the air! Thank god for Claypatra Bentonite Clay Lotion, it works like a charm when your skin is in trouble. Initially made for Eczema patients, now is available for daily usage. Formulated without Steroid, Parabens, Phthalates & SLS.

What's In The Kit?
Claypatra Bentonite Clay Lotion

Price :
RM65.00
PERFECT FOR :
- Dry, cracked, itchy, irritated skin
- Rashes, redness, swelling and inflammation
- Insect bites, cuts, stings, and allergic reaction
- Sunburn, minor burn or skin burn
- Eczema, psoriasis, rosacea, dermatitis, shingles, chicken pox and acne
- Oily-prone skin and dull skin
FEATURES:
- Formulated to assist problematic skin and restore visibly healthier skin
- Formulated without Steroid, Parabens, Phthalates & SLS.
- Can be used on all your face and body areas.

How to use:
Smooth over face and body. Use daily for maximum results, morning and night.

Ingredients:
H2O, Propylene Glycol, Glyceryl Stearate, Isopropyl Palmitate, Cetyl, Bentonite CP, Acrylates, Tocopheryl Acetate, Aloe Barbadensis Leaf Extract and Fragrance.
NO #1 HEALING CLAY LOTION
HEAL, HYDRATE & SOFTEN SKIN - Breathe life back into your skin and restore plump, beautiful soft skin by strengthening your skin's natural barrier function. Our skin care product stimulate cell regeneration and repair damaged skin without a greasy feel or any residue. No more battling irritation. Enjoy a makeup free life with confidence that your skin looks radiant.
STOP ITCHING. START RESTORING - Our Bentonite Clay Lotion does more than just provide instant relief from dry, cracked, flaky or itchy skin; it actively reduces pain and improves the condition of damaged skin when other OTC treatments fail. Use our natural, healing clay lotion to alleviate problematic skin, and restore visibly healthier skin.
SAFEGUARD AND AVOID FLAIR UPS - Combat daily skin damage and all types of mild to severe re-occurring redness and swelling due to harsh chemicals found in every-day shampoos, cleansers, body wash products, medication and your diet with a non-toxic, steroid and parabens free all-over-body lotion that fights against common skin problems. Proudly made in MALAYSIA with no added additives.
ADVANCE NATURAL FORMULA PROVIDES INSTANT AND LASTING RELIEF FOR PROBLEMATIC SKIN
An ideal solution for Eczema, Psoriasis, Dermatitis, Shingles, Chicken Pox and Rosacea
Powerful Secret Ingredients – We've added a premium ingredient BENTONITE CLAY, known to have abundance of minerals, including calcium, magnesium, silica, sodium, copper, iron and potassium. Which was proven a powerful aids in detoxification, defend against skin illness and protects against infections.
BENEFITS
Instant and lasting itch relief
Reduce redness and swelling
Rejuvenate skin naturally
Heal damaged skin
Help prevent re-occurrence of flair ups
Draws out toxins from the skin
Reduce the appearance of scars
Improve skin texture and tone
Absorb quickly and spreads smoothly
Creamy texture, Non-greasy formula, absorb quickly.
Pleasant natural smell
Suitable for all skin types
ABOUT CLAYPATRA:

Claypatra is a family owned and operated business motivated by our love for nature-inspired beauty and health care products. We wanted to create a range of products that are scientifically-based, result-driven, and inspiring for men and women of all ages.

NATURE INGREDIENTS

Nature is the best source of nourishing compounds that can effectively heal and treat problem skin and other health ailments. You can buy a whole range of products containing natural ingredients that are designed to support a healthy body; however, this doesn't mean that they work. It's really important that the ingredients are carefully selected, well understood, and expertly blended to deliver lasting results.

CLAYPATRA'S RESEARCH
We have vigorously researched all our ingredients to ensure that we have formulated products that really work. The cutting edge technology used in creating our formulas brings together a synergetic amalgamation of nature and science, delivering outstanding results.One of the many characteristic of our products that set us apart from others is that we use highly concentrated ingredients. This ensure not only exceptional value for your money, but also great results quickly. When you use our products, the carefully selected ingredients act rapidly to repair damage, and treat the underlying cause of irritation and discomfort.

WHAT CAN CLAYPATRA DO FOR YOU?

Regular application of Claypatra products can have a dramatic improvement on your skin and health. Our natural products can used to treat a wide range of skin ailments and other health problems including eczema, psoriasis, dermatitis, muscle sore, shingles, chicken pox and rosacea; among other problems.
Customer comments
| Author/Date | Rating | Comment |
| --- | --- | --- |
---